Lower Level - aka the Basement - Not The Dungeons They Used To Be
In downtown Toronto, homeowners scavenge space wherever they can. Storage is essential to an organized household.
This family had a host of requirements that required some creative thinking 'inside the box' called a basement. A place to learn, grow, play, work, be entertained and accomodate grandma and gradpa for holiday visits.
This renovation was considered an investment in the quality of their lives and sanity. Lots and lots of storage. Custom solution for a busy family that likes to keep things neat and tidy. Everything in it's place and a place for everything.
That's why I name them the Lower Level Floors – they're not the 'base' of the house but rather another level for living that happens to be below the ground line. With a shift in naming this space comes a shift in thinking about the space and functions.
Published in OUR Homes & Zoomer Magazines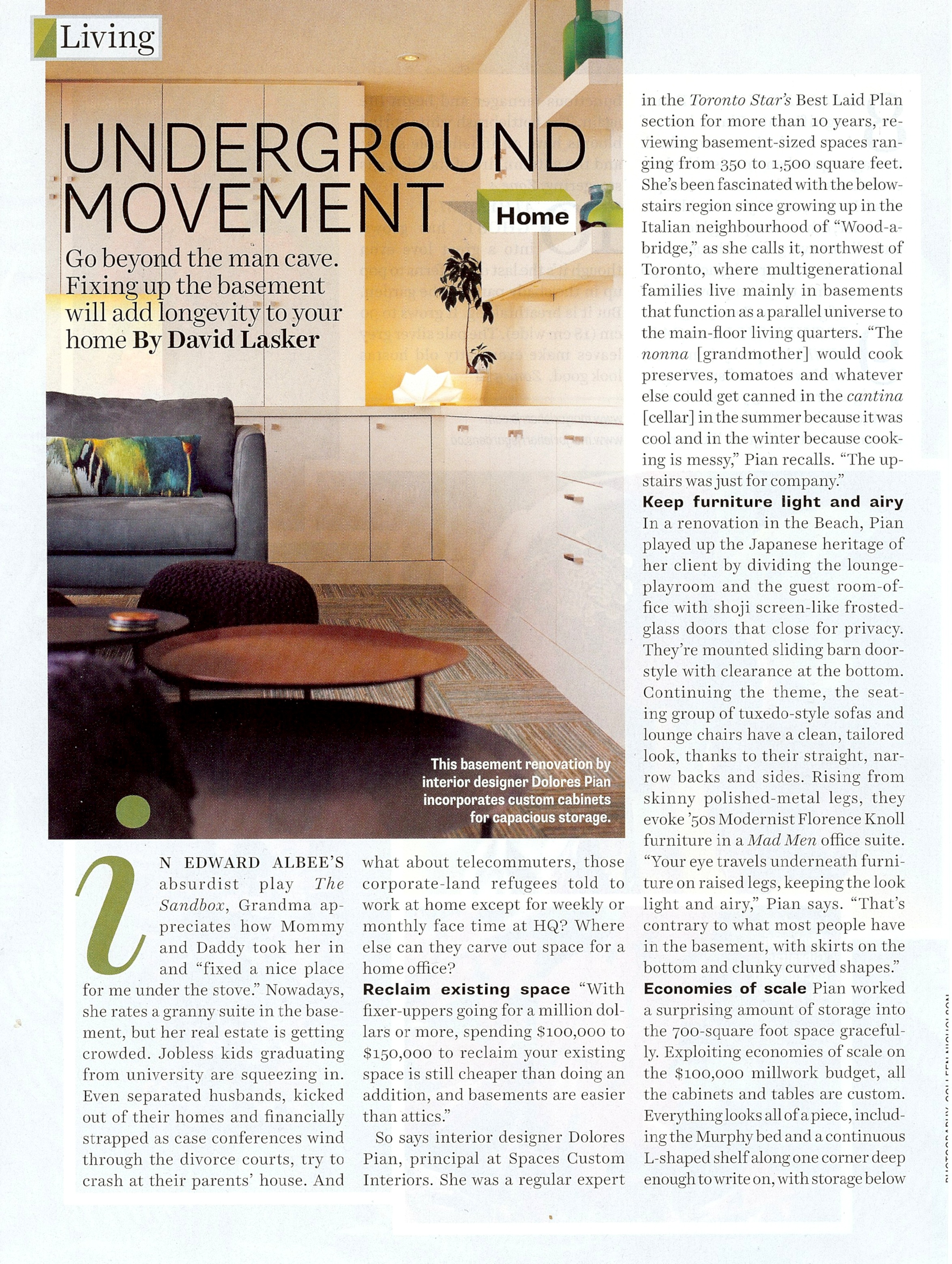 Traditional Refreshed - Renovation
Christopher, a single professional, started fresh – and so was able to re-invent himselfthrough the renovation of his new house.
Upon entering – you can see that the focus is the Kitchen. It's also a major thoroughfare to the den and backyard pool. Although narrow, every nook and cranny has been used to perform a function. Yet, still feels spacious.
Custom cabinets echo the Dining Room's wainscoting. Uppers, rise well above the counter to the nine-foot ceiling. A bistro style granite countertop, is used as an eating area for quick meals or a laptop computer.
Crisp stainless steel appliances provide an efficient, modern touch. Soft buff paint colours act as a backdrop for hits of red. Special features include hiding the microwave oven, dishwasher as well as the telephone, wireless modem and the roll-out bar.
Christopher's home is now the new gathering space for family, friends and the neighborhood children, who frequently use the pool.
Featured in HGTV's "Kitchen Equipped"
Entertainment Refined - Renovation
Cliff and Katy had a long, narrow 264-square-foot sunroom which needed every square-inch to be functional.
A tan leather sofa now bisects the room, re-orientating it so that the west wall functions as an entertainment centre. This "faux" wall, made-up as a large picture frame of 6 inch cherry, contains the plasma television and glass shelves. It also has lower cupboards of beech, that projects out into the room. Horizontal silk panels conceal all the supports. Dead space is filled with electronic equipment.
The carpet, with its subtle gradations of red, revitalizes the room. Different coloured woods, add warmth with clean soft modern lines.
At the opposite end, a wall of cupboards for dishes, is table height. It supports a peninsula table with seating for four. A lovely space to gaze into the back yard.
"Every inch was value engineered, Dolores… came up with an idea that was better than our own." Architect / Client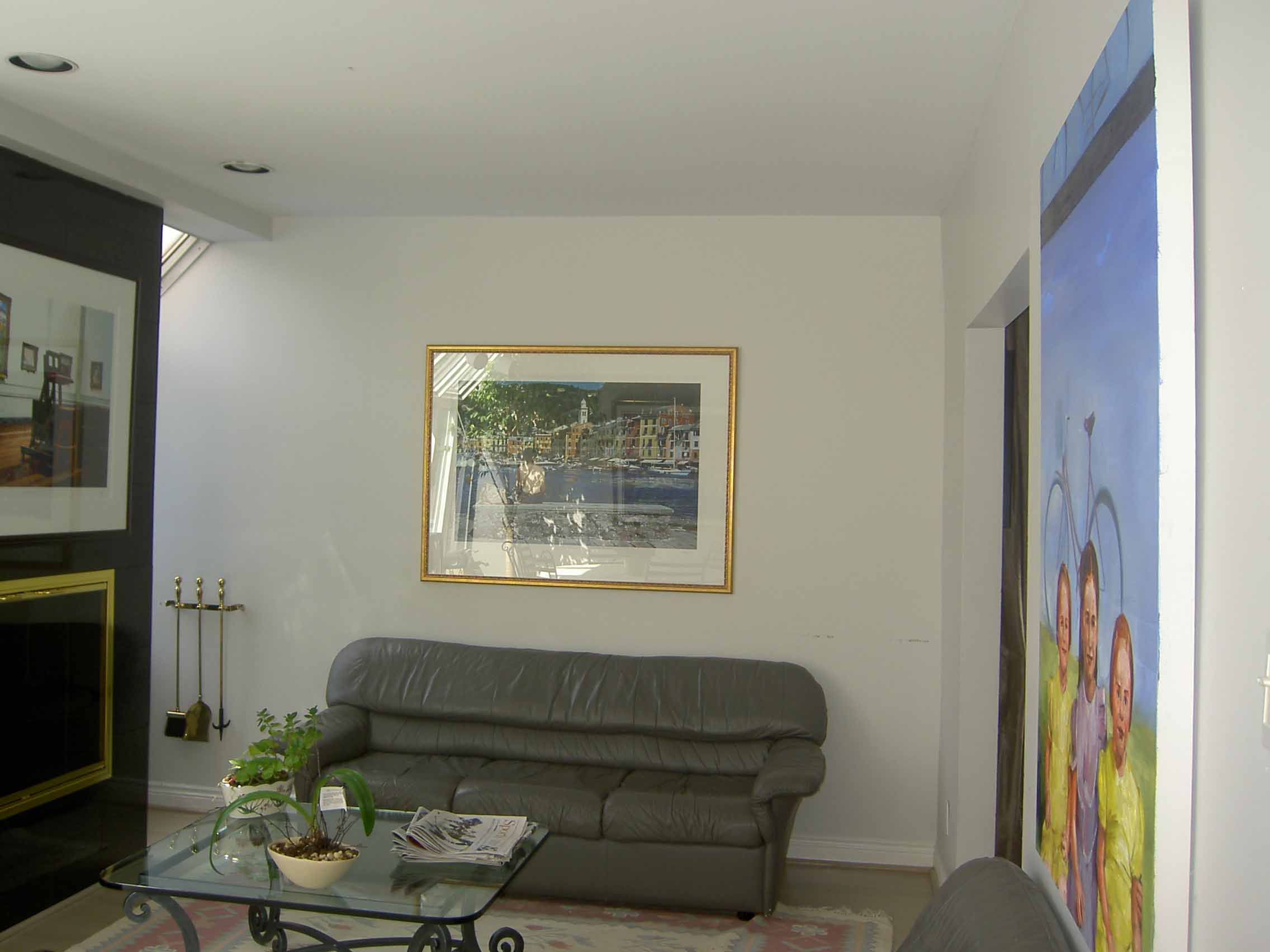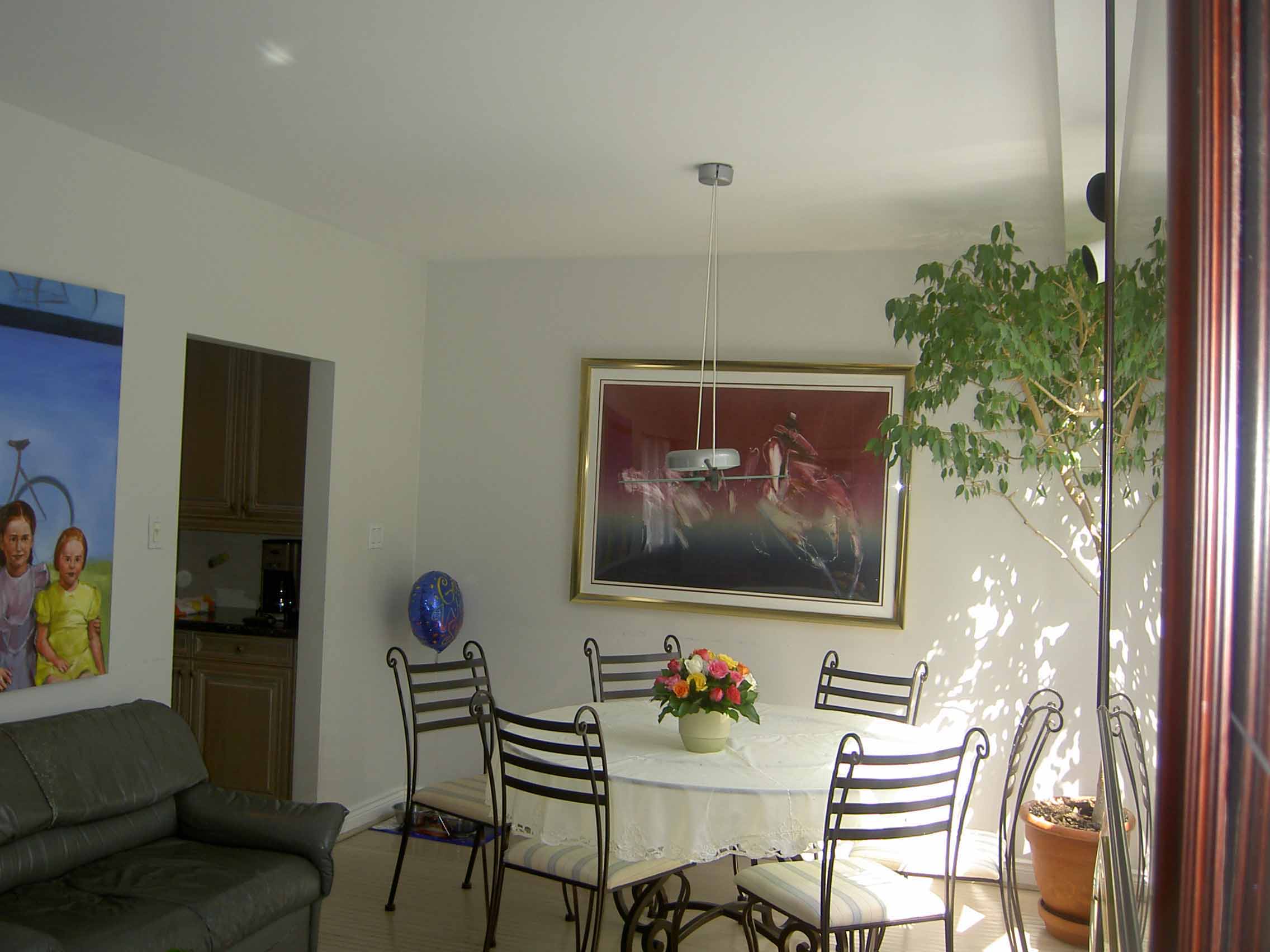 Start Fresh And Retain Charm - Renovation
After Kent Ford designed the gardens at his 1920s condo, it was time to move indoors.
The kitchen was refurbished with Ikea cherry cabinets, custom granite countertops and stainless steel appliances. The unique etched mirrored backsplash provides a subdued, smudged reflection.
Published in the Star & Post Homes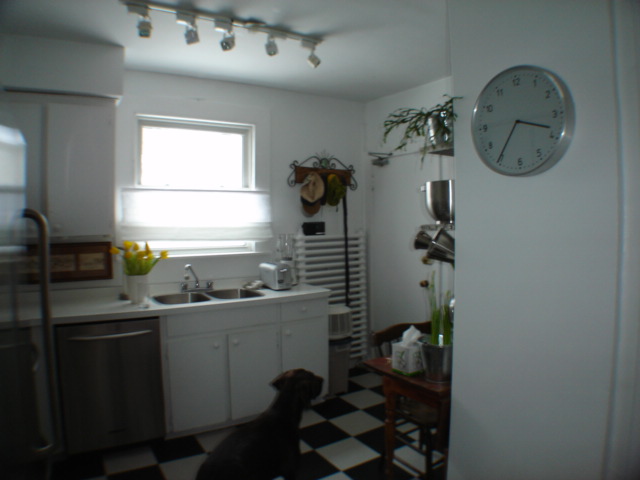 Nest In The Sky - Condo - Lifestyle Change - New Build
Aly & Paul bought a 1,400 sq ft condo from Monarch Development's floor plans. The kitchen was pushed back to provide more room for the dining and living room areas. And the breakfast bar acts as a transition space between the kitchen and dining areas.
Monarch decided that this was such a great use of space that they offered this plan in the Phase 3 of their development.
"It's a great space to come home to!" Say Aly and Paul.
Published in The Toronto Star and Condo Life Magazine.